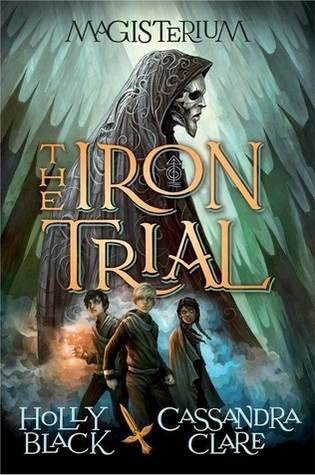 Title: The Iron Trial
Authors: Cassandra Clare & Holly Black
Pages: 347
Summary: Most kids would do anything to pass the Iron Trial.
Not Callum Hunt. He wants to fail.
All his life, Call has been warned by his father to stay away from magic. If he succeeds at the Iron Trial and is admitted into the Magisterium, he is sure it can only mean bad things for him.
So he tries his best to do his worst – and fails at failing.
Now the Magisterium awaits him. It's a place that's both sensational and sinister, with dark ties to his past and a twisty path to his future.
The Iron Trial is just the beginning, for the biggest test is still to come . . .
Rating: 2/5 stars
I wish I could give this book more than 2 stars, but unfortunately, I can't. While I found myself reading this fairly quickly and finding it remotely interesting and fun, I still couldn't brush off the glaring similarities with Harry Potter. As I'm in the middle of rereading the whole HP series, similarities are even more obvious to me, especially in the prologue and at the ending of the novel. A part of me wishes I could give this book more stars as I devoured this book despite the schoolwork I had to do, but there can only be one Harry Potter, so I can't make myself appreciate this book more.
That being said, there is a chance I'll pick up a second book because there were times when the book tried to be original, and because of that, I have hope that maybe, in the second installment, it'll get away from HP and find its own path. Hopefully. We'll see.
It definitely has a potential and the writing is fast-paced, and easy, and it's really easy to get lost in the book and read it for hours. I hope the authors will know better the next time around.