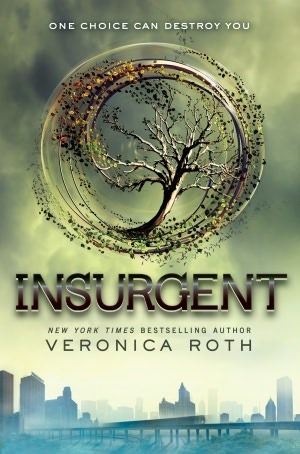 Title: Insurgent
Author: Veronica Roth
Pages: 390
Summary: One choice can transform you—or it can destroy you. But every choice has consequences, and as unrest surges in the factions all around her, Tris Prior must continue trying to save those she loves—and herself—while grappling with haunting questions of grief and forgiveness, identity and loyalty, politics and love.
Tris's initiation day should have been marked by celebration and victory with her chosen faction; instead, the day ended with unspeakable horrors. War now looms as conflict between the factions and their ideologies grows. And in times of war, sides must be chosen, secrets will emerge, and choices will become even more irrevocable—and even more powerful. Transformed by her own decisions but also by haunting grief and guilt, radical new discoveries, and shifting relationships, Tris must fully embrace her Divergence, even if she does not know what she may lose by doing so.
Rating: 3/5 stars
You know what Will would say?" says Christina.

"What?" I say, my voice breaking.

"He would tell you to get over it," she says. "To stop being so irrational and take the stupid gun.
So this quote describes the whole book perfectly. And it's sad because I loved the first book so much. To say I'm disappointed is an understatement. There is just not that exciting, fast-paced plot anymore, Tris turned into a crying idiot who can't get her shit together at all, and everyone is just dull in comparison to before. I do understand the Tris killed her friend and that it can't be easy to deal with such fact, but good god, being irrational and stupid and idiotic for 95% of a book is just too much. She doesn't get her shit together when it's needed and it's just frustration. Plus, I felt as if the plot was going nowhere. It was boring and this could've been shorter for at least 100 to 200 pages.
Overall, this didn't live up to my expectations, though I'll still pick up the third book in the series.